How to Read Your Mold Report
You have been through the complicated process of repairing a water-damage loss in your home. You have called the remediation team, who abated the mold and now have called a company like Guzi-West, who performs "mold clearances." The remediation company has more than likely conveyed the results to you – either pass or fail. If the area failed, you needed to schedule another mold clearance after more remediation has been completed. If the area passed, they were able to take their drying equipment and plastic barriers out. What does a passing or failing mold clearance mean? What are the criteria for a passing or failing a test?
When reading a mold clearance report, one document from a laboratory will stand out. This is the air cassette readings report the sampling technician took inside and outside the containment. It will have a multiple mold species and spore counts present. That's completely normal! No home is completely free of mold. The sampling technician would typically take 1-3 samples indoors and 1 outside. The outside serves as a baseline in which we compare all indoor levels against.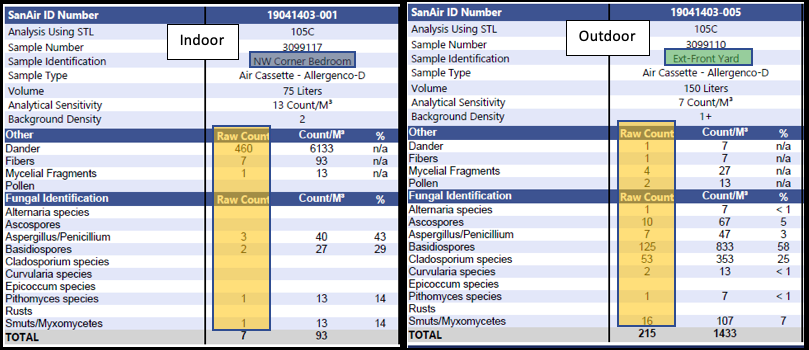 EXAMPLE: This is a pretty typical passing mold test in the interior Northern California area. First, look at the "Raw Count" in the indoor sample. The raw count is how many spores the laboratory counted on the air cartridge. This is helpful when we conceptualize how many individual spores are drawn through the air cartridge within the area contained. We utilize "Raw Count" for one or two different mold species.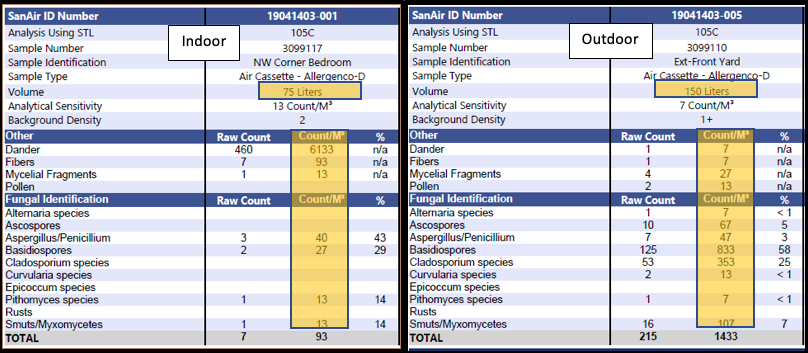 After we assess the Indoor and outdoor "Raw count", we look at the Count/M3. Notice the indoor sample volume is 75 liters and outdoor is 150 liters. This count represents how many mold spores are in a cubic meter of air through statistical analysis. This is helpful when samples are taken at different volumes. In other words, the raw count of an air cassette pulled at 75 liters should not be compared to a raw count of an air cassette pulled at 150 liters because there may be higher counts with higher volumes. By comparing the counts/M3, the differences are accounted for. The difference in sampling duration is to ensure the sampling cassettes are not overloaded, as well as to ensure a proper dispersion of air spores. Typically, outdoor environments with no visible dust are sampled for a 10-minute duration, while indoor environments with individuals present and moderate activity are sampled over a 5-minute duration. The formula most labs use to calculate how many mold spores are present per cubic meter is as follows:
Raw Count X (1,000 / Total Volume in Liters)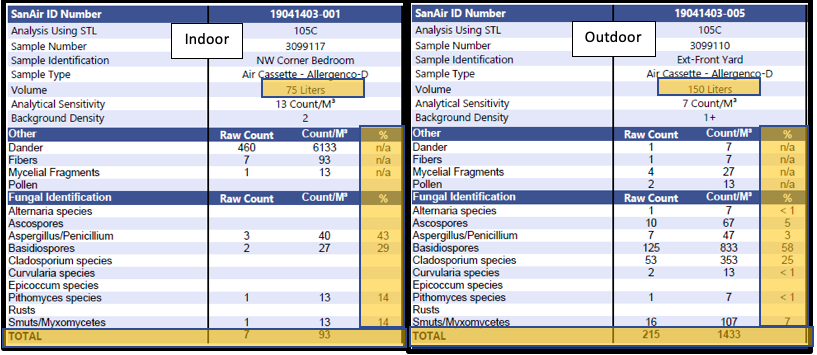 The last column is %. This column is the percentage of the cassette that's covered with the specific mold spore.
The last thing you'll notice is the "Total" across the bottom. In most cases, outdoor spore levels should be much higher than indoor levels.
When you combine all the information presented above, along with recognizing the species that are adverse to human health, we're able to determine if the mold remediation is complete, or if further steps need to be completed to insure your indoor air quality is at healthy levels. Of course, there are always a few exceptions when that's not the case.
It's important to note, however, that the mold report is not the only aspect of data we rely upon when clearing a mold containment. The emphasis on the report in this article is purely informational. Mold air quality data is most beneficial when baseline mold genus levels can be determined within a given structure. This rarely happens in an emergency water loss. Post mitigation air sampling can then be statistically analyzed against baseline data and conclusions then drawn on reduction of mold genus. In the absence of baseline data, we utilize observations from the site inspection, types of mold genus identified, comparison of both indoor verse outdoor mold genus types present and their respective concentrations, as well as data presented in the Environmental Protection Agency's (EPA) Mold Remediation in Schools and Commercial Buildings (2001). The EPA, Center for Disease Control (CDC), and American Industrial Hygiene Association (AIHA) all stress the importance of visual observations and aroma over reliance on air data alone.
Looking for Professional Mold Testing in California?
At Guzi-west, we perform professional mold testing services in the areas for Humboldt/Del Norte, McKinleyville, Eureka, Chico, and Redding. For additional services, please explore our website for more information. Contact us today to schedule professional mold testing services for your home or business. (888) 351-8189